A local chef who trained with Le Cordon Bleu in Paris, was part of Pierre Gagnaire's rue Balzac opening team, worked with Alain Ducasse at his original three-starred Parisian restaurant in the Sofitel Le Parc, and also worked as a stagiaire at Pierre Herme during his stint in the City of Lights. Expectations raised enough yet?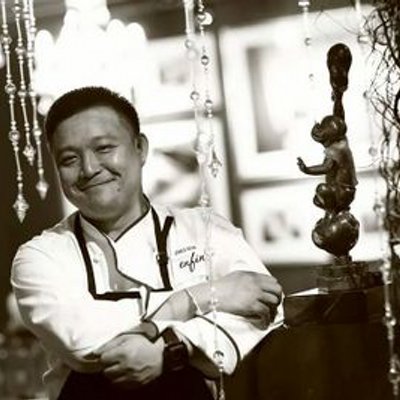 Chef James Won of Enfin
To be fair to James Won, owner-chef of "Enfin by James Won", he only started dropping names after I asked him specifically about his background and training. Don't get me wrong, he is not afraid to blow his own trumpet when he wants to. Far from it. He is, outside of (but associated with) his culinary work, a salesman, a smooth talker and an even smoother operator, a benevolent master practitioner of image- and association-driven marketing. He will, if you let him, blow so much smoke up your arse you could serve it with a muffin, poached egg and hollandaise sauce and call it breakfast.
The Dining Room
What originally drew me to Enfin was the fact that its previous incarnation, Brasserie Enfin at Ara Damansara, was named the Krug Ambassade for Malaysia. At the time, Brasserie Enfin's fellow stablemates included some rather big names like Jaan in Singapore, the three-starred Flocons de Sel in the Megeve, and the Wife's favourite restaurant in the whole world, the Assiette Champenoise on the outskirts of Reims. A Brasserie? In the KL suburbs? I tried making a booking in December last year, but Won wrote back, advising that they had already ceased operations and that I should try booking in the new year when the new "Enfin" opened its doors.
Well, it did, and I did, so I found myself one recent evening at Menara Hap Seng, opposite the Shangri-La. However, in a shopping mall environment with all the shops closed and the light set to "romantic", I was thoroughly disoriented by the time I reached the second floor, where I saw a nice garden, and a very nice bar with a full glass frontage and bugger-all by way of signposting. I gingerly walked in and asked a staffer, like the worst sort of naive tourist, "which bar am I in?". "Enfin by James Won", came the reply. Let the games begin.
Now I need to qualify this review. While I paid in full for this meal (as I always do), one of our mutual friends had tipped Won off that there was a particularly cranky food writer visiting that evening. I am not sure what exactly was related by said mutual friend, but Won was apparently sufficiently impressed to spend a good part of the evening at my table. Tant pis.
Amuse Bouche: Toasted Brioche Sandwich with Hokkaido Scallop, Cream Cheese and Strawberries
Good flavour, and the cream cheese and strawberry influence is extremely subtle but benign. For me, this is let down by the brioche being cut so thin, it becomes soggy from coming into contact with the moist seafood. A confident start.
First Entrée: Tempura Soft Shell Crab, Argentinian Prawn, Shellfish Sabayon
Sweet, crispy, hot and salty, this is by far the best deep-fried soft shell crab I have ever had. Unlike so many renditions, this one feels fresh, solid and intact, and does not disintegrate in a mush of leaking water and juice. Against this, the Argentinian prawn pales into insignificance although to be fair, most things would. The very fragrant shellfish sabayon, made from the roasted heads and shells of the prawn, contributes a nice contrast of having both the raw and cooked flavours of prawn on the same plate. A good pairing with my Krug Grande Cuvée (it turns out that Won is actually an ambassador for the entire Moet Hennessy Diageo stable, so the restaurant is chockful of Hennessy paraphernalia as well).
The housemade breads are excellent, in particular, the baguette with natural leavening.
A word on the service. While the staff are generally helpful and well-meaning, they seem to lack knowledge and confidence, and a couple of snafus resulted. For example, once I had finished my crab, the waitress removed the used cutlery from the plate, put it back on my table and cleared the plate away! Now this may be de rigueur in Le JW Holiday Innter-Sheraton buffets where cutlery has to be reused for practical reasons, but is clearly not appropriate in a fine dining restaurant. Similarly, they were distinctly stingy with my flute of Krug, although it is topped up a couple of minutes later with an apology for the first stingy pour.
Second Entrée: Egg Yolk Pasta, Egg Yolk Cooked in Prawn Oil, Miso-Cured Egg Yolk, Uni, Charred Leeks
Won advises that I start with the leek boats, manned by a sea urchin cream and slices of miso-cured egg yolk. It is an extremely hedonistic mouthful, the creaminess and sweetness of the sea urchin dominating in an umami flavour bomb with the egg yolk. It is vulgar, obvious, one might even go so far as to say unsophisticated, but it is 110% delicious. I cop some flak from my friends for being over-critical ("you are an atas prick", was one recent choice declaration), but every now and again, it is easier to just go with the flow and lap it up. The noodles, made wholly with egg yolks and no water, are rather rich and become even richer once tossed through with the prawn oil-poached egg. The serving size is also extremely generous in light of the flavour quotient, but I think Won is pressing all the right buttons for the local crowd with this dish. Very good.
Main Course: Duck Confit Tower, Duck Breast, Jus Gras, Heritage Carrot with Chicken Floss, and Citrus Caramel Jus Gras
Good, solid cooking. I must admit I am not particularly impressed by the heritage carrot with chicken floss, but the duck is the clear star of the dish, and appropriately so. The fat on the breast is fully rendered so you just get the crunch of the skin against the moist flesh, and the confit tower with potato strings is a minefield (in a good way) of crunchy skin, salty duck fat and gamy meat. A glass of a good Vosne would have been the perfect accompaniment.
Dessert: Chocolate Degustation
A selection of chocolates, including two dark chocolate pralines with mulberry and strawberry parfait, a while chocolate with hazelnut praline and a "French pound cake" inexplicably coated with dark chocolate. While they were generally good, I felt this was a bit of a cop-out; at a restaurant with such naked ambition (and charging between RM 368 - 448 for dinner), surely they could serve a proper plated dessert, with pralines subsequently handed out as a complimentary after-dinner treat with coffee? Won says that his menus are driven by the need to pair with beverages, in this case Hennessy XO. I know that dark chocolate is the classic combination with a good cognac, although in this case, I dare say that he has over-emphasised his commercial commitments to the detriment of the meal's progression.
Conclusion
For all his bluster, Won is a very charming host and a big personality, and I like him a lot. The "ambassador" side of his persona can get rather overwhelming at times, but I cannot begrudge a man who has paid his dues. And to his credit, his food is delicious, and unless you are a semi-professional busybody like me, isn't that what it should really be all about? A word of warning, though: while the use of classic French technique is evident, the food at Enfin is not classic French food. The palate and sensibility on display is more Asian, with an ensemble of high-octane flavours and textures jostling to get your attention. Won admits as much, saying the cuisine is a tribute to, and a fusion of, his French training and Hakka roots.
"Enfin", in French, means "at last". The story goes that Won's ultimate vision was always a fine dining restaurant, but knowing that good local staff were difficult to come by, he resolved to train up a local staff for a few years in a less formal environment (Brasserie Enfin), slowly up-skilling them so they would eventually be able to handle the demands of fine dining. Enfin is apparently the culmination of that vision, and Won is especially proud that he is maintaining a 100% Malaysian team both in the kitchen and on the floor.
For a chef with Won's chops, however, I don't see this as the closing chapter in this story. It can't be. There are still improvements to be made, particularly with service, and dessert could do with some reconceptualising. There are already a lot of positives to draw on food-wise, and the space is stunning, with enough room between the tables to house entire kampungs. And I need to bear in mind that at the time of my visit, the restaurant was basically two weeks old, which is a lot younger than I usually like them.
As the team settles down into its new fine dining mode, I hope Won pushes the envelope some more, because he is perhaps one of the few chefs in KL who has the energy and the expertise to do so. And I will be keeping a close eye on how this story develops further.
ENFIN BY JAMES WON
Lot 2-05, Level 2, Menara Hap Seng
Jalan P Ramlee
Kuala Lumpur
Malaysia
Tel: +60 10 288 7920
Reservations recommended
BYO Policy: BYO not permitted for wines stocked in restaurant (wines of a different vintage are regarded as the same wine). Corkage-free BYO otherwise. Please call ahead. For a list of BYO restaurants in KL and the Klang Valley and their corkage policies, please click here
.