I was meeting up with P, my wife's old friend in London, for a push-the-boat-out, posh night with multi-Michelin stars a-twinkling. On my last trip to the Old Dart, I had visited The Square (absolutely loved it), Le Gavroche (nice food and service, but I detest its clubbiness which I suspect is an intrinsic part of its appeal to the English) and Hibiscus (decent but uninspired).
After St John and with another date at Hedone later in the week, I was interested in seeing how the oeuvre of the great French chefs translated on the plate in London. The shopping list was brief: Madame Darroze, Alain Ducasse at the Dorchester and the local McAtelier. Ducasse was booked out and I've already had a couple of Robuchon meals this year, so we ended up at Hélène Darroze by default.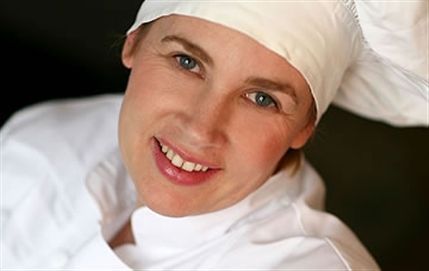 Hélène Darroze, holder of three Michelin stars across London and Paris
After a few martinis at the Connaught Bar (recently voted the World's Best Bar, for what it's worth), we crossed the cosy hotel lobby to the threshold of Hélène Darroze. It's a beautiful dining room, with veritable postcodes between tables, so it's hard to judge how full the dining room is, although most of the tables within my field of vision were occupied. There's plenty of wood panelling to keep the Gavroche crowd comfortable, but it's far more modern and airy than Chez Roux.
Guests have a choice of a la carte or the Signature Menu, which can be taken in 6 or 9 courses. When I ask one of the waiters which 6 courses I can have, I'm told "Any six you wish, sir". I raise my eyebrow at this, but it is later clarified that you need to choose four from the first six options (i.e. the savoury progression) and two of the final three, which basically boils down to whether you want cheese or a second dessert. P pleads his case for the 9-course, but with the St John's pheasant pie still clogging my digestive system, I have no qualms overruling him.
Little puffy cheese balls of pastry and gruyère cheese served in a little paper cone. Light, serviceable and crusty.
I'm surprised to learn that these are the only amuses provided, contrary to the "shock and awe" tactics so commonplace these days at restaurants of this level. After a nibble, we are straight into our Signature Menus.

First Course: Terrine of Duck Foie Gras from the Landes, confit in Maydie Wine from Madiran, Fresh and Confit Figs from Solliès, Maydie Wine Jelly



A dish from Darroze's native Landes, and what better expression is there of the region than its famous appellation-protected duck products. The very generous portion of terrine, musky and creamy, has rather disconcerting mould-like green streaks between the lobes of foie, which I later learn results from a reaction between the fat in the liver and the tannat-based Maydie sweet wine. More disappointing is that there are more than a couple of (rather long) veins in the foie, which you have a right not to expect at this level. Good overall, but it is a heavy start.
Second Course: Ceps ravioli with lardo di Colonnata, Hereford Snails, Fresh Hazelnuts, Ham Jus, Persillade Emulsion

Every once in a while, writers are tempted to describe a dish or a wine in line with their knowledge of their its maker, e.g. a female chef cooks with an elegant, restrained style, or a Burgundy wine is brusque and sullen just like its cantankerous arsehole winemaker. Based on my first two dishes, I would have guessed that there was a man in the kitchen, and not a particularly effete one. Read the list of ingredients out loud: ceps, lardo, snails, parsley. You probably think that flavours are going to be full-on, and you'd be right. Crunch from the toasted hazelnuts provide welcome punctuation to the unrelenting richness.
Third Course: (1) Black and Creamy Carnaroli Acquerello Rice, Line-Caught Calamari sauteéd with confit tomato and chorizo, slightly bitter jus with parsley, Parmigiano Reggiano Foam; and (2) Creamy Carnaroli Acquerello Rice with Parmigiano Reggiano Emulsion and White Truffle Shavings (off menu)
When we walked in, our waiter approached us with a wooden box, which he gingerly opened as if he were Pandora. Within was a tennis ball-sized white truffle from Alba, and its heady aroma of earth and dirty socks. So of course we asked whether the kitchen could replace one of our squid ink risotti with a white truffle risotto, and of course they agreed.
I must say I felt let down by the squid ink risotto. If you are going to use an aged vintage rice like Acquerello, you should let it play the lead role, not drown it with cups of what seemed like unadulterated squid ink - just check out the colour on that sauce. The very modest amount of tomato tries valiantly to cut the risotto with its acidity but is snuffed out like a candlewick. The white truffle risotto was subtler, and the truffle itself was of excellent quality. However, the rice grains in both plates were still crunchy, which made it heavy going. Surprisingly, the manager acknowledged that she had heard this complaint from guests numerous times, so it appears the message has still not gotten through.
Fourth Course: Peppered Venison Fillet with Fondant Autumn Fruits and Vegetables, Sauce Grand Veneur

After three courses of the richest food I've ever experienced at a Michelin-starred restaurant, this came as an unwelcome challenge. I was trying to make room for the half of the meal that still remained, and I do not recall anything offensive about this dish. However, the sauce was absolutely brilliant, so much so that I actually asked for extra bread to mop it up.
And then it happened. I hit the food wall. It's funny how a civilised meal at a good restaurant ends up in the same place as a "Man v Food" pig-out.

Fifth Course: Cheese Plate

At this point, I was struggling to draw breath. I was reminded of a lunch at Les Ambassadeurs during its halcyon days under Jean

-

François Piège, when post-meal, I saw our next-table-neighbour, a rather portly gentleman, literally dying on the pavement near the Place de la Concorde after a massive extras-laden lunch that Piège was famous for dishing out. Well, I was rapidly getting to that point.
Back to the review. You don't get a choice of cheese here, only the day's selection of three
avec ses accompagnements.
Stilton came with an orange purée which I cannot recall but recall loving, a ripe goat's cheese with mustard fruits and cheddar with honeycomb and pecans. Quality was top-class all around, but the belt had to go a couple of notches looser at this point.
Sixth Course: Bourbon Vanilla Cream, Blackcurrant Sorbet and Meringue, Crystallised Violets
Desserts are from chef pâtissier Kirk Whittle, who served at Darroze's Paris outpost for some five years before relocating to take charge of the sweets at her London branch. There is a genuine mastery of technique, texture and flavour here, the crunch of the meringue playing off against the sorbet and the luscious vanilla cream, although the crystallised violets are a little too hard for my liking. For me, this was the highlight of the meal along with the cheese and the venison's sauce Grand Veneur.
Mignardises
A handsome trolley laden with confections is wheeled over to our table. Now few people in the world can claim a love more pure than mine for macarons and canelés, those little delights which bring an end to many starred meals worldwide. Tonight, however, I would rather have wild dogs tear at my entrails than even entertain the mere idea of eating a salted caramel mac. At least there would be some space in my stomach once they were done. I ask the staff to bag them for me and on revisting them the next morning, the jumbo-sized
canelé
is particularly delicious,
combining a classic custardy interior with a crusty exterior.
Digestifs
Seeing the look of gastric discomfort on our faces, our waiter wheeled over a trolley of armagnacs from Darroze's family. Apparently the "hook" to Monsieur Francis Darroze's armagnacs is that he markets each distilled parcel as a single estate / vineyard eaux-de-vie, instead of blending them with others. On each label was printed the name of the originating vineyard, a sign of respect from the éleveur for the terroir.

I politely declined, fearing that a Monsieur Creosote moment is imminent.
I must admit I'm a little bit in two minds about my meal at
Hélène Darroze. I am the newest paid-up member of pastry chef Whittle's fan club, and I wish that I was able to enjoy more of his desserts. For every other upside, however, there appeared to be a corresponding downside. Flavours were rich, bold and gutsy, for me, overly so. Even acknowledging that Darroze is cooking with her native southwestern terroir in mind, layering upon layering of duck-fat-cooked dishes (this was the explanation given to me by my waiter when I remarked how heavy the dishes were) appears rather ill-thought out. The white truffles were as good as I've ever had, but the supporting risotti fell short both in texture and flavour. And I still can't work out why there were four long veins in my foie gras terrine.
In summary, I'm glad that I visited, but outside of the desserts, I'm not sure I see a compelling reason to return on a future London visit.
HÉLÈNE DARROZE AT THE CONNAUGHT
Budget £80 and above for a three-course dinner